My Account
View Cart
Questions? Call us!
410-363-7318
Follow us: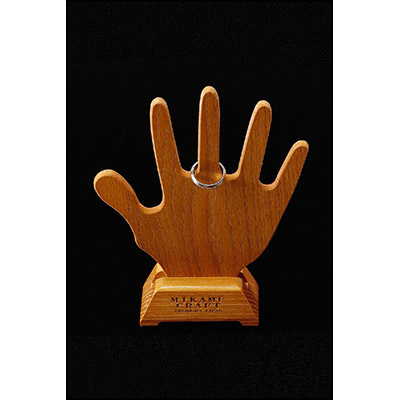 Virtual Hand by Mikame
Item Number: TA3926
$52.50
OUT OF STOCK
Virtual Hand by Mikame
Display a beautiful wooden cut-out hand and an accompanying wooden base.
Mr. Mikame's craftsmanship is unsurpassed to the highest grade of quality.

Remove a 'VIRTUAL' cig. lighter from your pocket, have your volunteer touch ANY finger on the hand with the 'VIRTUAL' flame.

Yes the magician feels (not really) the hot flame on the EXACT finger they touched with the 'VIRTUAL' flame.

You ask was this just virtual pain or was it REALITY?
You show the finger they chose, it has a BLISTER!
Alternate trick routine included with a borrowed finger ring.
Reviews
Collector's Workshop came out with a very similar effect many years ago, but the hand was made of black Lucite. I use a rattle box for the vanish. I prefer your wooden version as I think it simply looks better. - John Petroff

Do you own this product? Write a review.
You may also be interested in these items.